This article provides an honest look at Magnet Kitchens to help you decide if their products are right for your home.
Are Magnet Kitchens Any Good?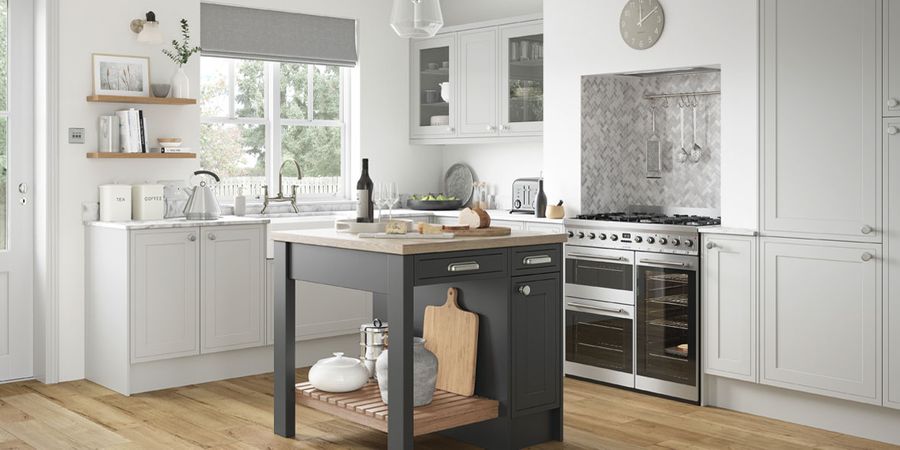 Magnet Kitchens is a highly recommended kitchen provider in the UK, known for their quality, customization, and customer service.
Some complaints exist regarding contracted installation, so vetting your fitter is advised.
Overall, they provide excellent kitchens tailored to your lifestyle.
Key Points
Magnet kitchens have excellent customer satisfaction and quality ratings
They offer customized, lifestyle-focused kitchen design
Some complaints exist about contracted installation services
Our Opinion
Based on customer reviews and ratings, we believe Magnet Kitchens is one of the top kitchen providers in the UK.
Their cabinetry is durable and stylish, while their design process ensures a kitchen tailored to your needs.
As long as you properly vet the installation team, Magnet is an excellent choice for a new kitchen.
Magnet Kitchens Review
With a 4.6-star rating on TrustPilot, Magnet Kitchens is doing something right. Over 9,600 customers have rated their experience, with most praising the quality and service.
The highlights include:
Consistent 4.5+ star ratings on Trustpilot
Cabinets described as high quality and durable
"Excellent" reviews from satisfied customers
However, some downsides have emerged:
Complaints about the quality of some units
Issues with third-party fitters during installation
Overall, Magnet enjoys a largely positive reputation for its products and services.
But before ordering, carefully weigh the pros and cons to decide if they are the right fit for your needs.
Magnet Kitchens Quality
When examining Magnet Kitchens' quality, the details matter. Let's break it down.
On the plus side, their cabinet materials and finishes earn praise. The cabinets use quality wood like oak and maple. Thermally fused laminate finishes resist scratching and staining. Soft-close hinges prevent slamming.
Many reviewers describe the cabinets as solidly constructed and durable. Magnet offers a 10-year guarantee on cabinets as a vote of confidence.
However, some customers have complained about uneven doors, chipped edges, and units not assembling square. This suggests inconsistent quality control.
Magnet relies on third-party fitters for installation. This can lead to mixed results. Some rave about the installers' work. Others report rushed or sloppy jobs. This part of the process seems hit-or-miss.
In the end, Magnet offers quality cabinets at reasonable prices. However, minor defects may emerge, and installation experiences can vary. Weigh your options carefully as you make your decision.
Magnet Kitchens Customer Service
Customer service can make or break a kitchen purchase. How does Magnet stack up in this area?
On the positive side, their showrooms receive praise for knowledgeable staff. Employees take time to listen to your needs and make recommendations. They also provide design services to envision your new kitchen.
The ordering process goes smoothly when purchasing directly from Magnet. Delivery timeframes are communicated upfront. Installers arrive as scheduled to handle assembly.
However, some customers have struggled to reach customer service reps by phone. Hold times can be long. Email and online chat responses also feel slow at times.
Post-purchase support appears hit-or-miss. Some praise Magnet's responsiveness to issues. But others describe frustrating back-and-forth getting problems resolved.
In summary, Magnet provides helpful in-store experiences but inconsistent support after. Weigh how much handholding you may need when deciding if they are the right fit.
Supply-Only vs. Fully Fitted Magnet Kitchens
When it comes to installation, Magnet offers both supply-only and fully-fitted kitchens. What's the difference, and which is better for you?
With a supply-only purchase, Magnet delivers the kitchen units, worktops, appliances, etc. to your home. You must arrange for a tradesperson to install everything. The fitted option means Magnet sends its installation team. They handle the entire fitting including plumbing, tiling, flooring, and electrics. All you do is choose finishes and layout.
Fitted kitchens cost more upfront. But they save the hassle of project managing different tradespeople. Magnet's installers are fully trained in assembling their products too.
Supply-only makes sense if you want to DIY or use your contractor. But for a smooth experience, Magnet's fitted service ensures everything comes together seamlessly.
Ask about their installation packages. And review sample timeframes so you know what to expect.
Magnet vs. Howdens Kitchens
When comparing kitchen brands, Magnet and Howdens are two popular options. What are the main differences between them?
Both offer a range of classic and contemporary cabinet styles. However, Magnet has over 400 combinations to choose from. So, there's greater flexibility to get the exact look you want.
Howdens focuses more on trade customers. Magnet caters well to retail clients too. Their showrooms help visualise designs in realistic kitchen settings.
With Magnet, you can buy supply-only or get a fully-fitted kitchen. Howdens mainly supplies trade professionals to handle fitting. Though they recently introduced an installation service.
In terms of quality, both brands use solid wood frames and offer decent warranties. Magnet offers more high-end materials like glass and stone worktops though.
When it comes to value, Magnet regularly has sales. Howdens' pricing is pretty fixed, beyond trade discounts.
Overall, Magnet edges out Howdens with more choice and flexibility.
FAQ
Are Magnet Kitchens better than Howdens?
Magnet Kitchens offers more customization options compared to Howdens' standard range. Their quality is on par with each other, but Magnet provides better customer service. Overall, Magnet Kitchens is considered slightly better than Howdens.
Who makes Magnet Kitchens?
Magnet Kitchens are designed and manufactured in the UK by Magnet Ltd, which is part of the Nobia Group, Europe's leading kitchen specialist.
Why choose Magnet Kitchens?
Magnet Kitchens are known for their high-quality materials, wide range of styles, customization options, and excellent customer service. Their kitchens are tailored to each customer's lifestyle and space.
Does Magnet do building work?
No, Magnet does not do the installation or building work themselves. They contract certified installers to do the kitchen fitting and plumbing work. Customers should thoroughly vet the fitters before hiring.
Conclusion
Magnet Kitchens are generally considered to be of excellent quality and value. Their cabinetry is durable and made of high-quality materials. Customers consistently rate their customer service and kitchen design process very highly. Some complaints have been made regarding issues with contracted installation, so it's important to vet your fitter. Overall, Magnet Kitchens makes for a recommended and popular kitchen provider in the UK.